Student Life Conference Room (SRB 2293)
Information:
Conference room shared by Dean of Students Office, First-Year & Graduate Student Initiatives, Office of Judicial Affairs, Office of Student Life, and Student Mental Health Coordination Services. See Student Life. Conference seating for 16. Max capacity is 22 (with chairs). A/V: Whiteboard, Digital Projector, DVD player, laptop-ready, SA workstation, audio.
Parking:
SRB Structure (Parking Lot 22) or Parking Lot 23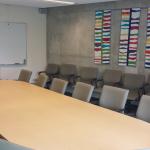 Additional Info:
Campus users: Reserve through the Student Life front desk (x4569). Student Affairs users: Reserve in Outlook or through the Student Life front desk.