Trans Media: TANGERINE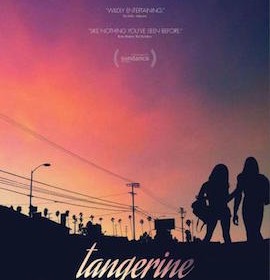 Thursday, May 25, 2017
7:00 PM – 9:30 PM
Tweet
It's Christmas Eve in Tinseltown and Sin-Dee (Kitana Kiki Rodriguez), a transgender sex worker, is back on the block in this critically-acclaimed indie comedy, which was entirely shot using modified iPhone 5S cameras. Upon hearing that her boyfriend and pimp Chester (James Ransone) has cheated on her with a cis-gender woman while she was in jail, Sin-Dee and her best friend Alexandra (Mya Taylor) embark on a mission to get to the bottom of this scandalous rumor. Their rip-roaring odyssey leads them through various subcultures of Los Angeles, rendered by the film with uncommon verve and exuberence.
This screening will be followed by a Q&A with Actress Mya Taylor, moderated by Director of the Carsey-Wolf Center, Professor Patrice Petro.
The "Trans Media" series will showcase contemporary media work in television, narrative filmmaking, and critical documentary in an effort to explore the relationship between sexual orientation and gender identity outside of a rigid world view.
Restrictions
The event is free but a reservation is recommended in order to guarantee a seat. Tickets will be released on Monday, May 8 at 11am.
Media

Audiences
Additional Resources
More Links:
http://www.carseywolf.ucsb.edu/pollock/events/trans-media-tangerine