TRANS MEDIA: FREE CECE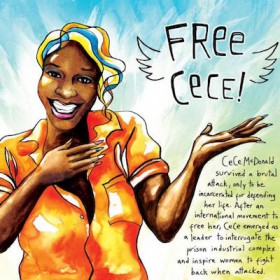 Wednesday, May 10, 2017
7:00 PM – 9:30 PM
Tweet
In 2011 CeCe McDonald survived a brutal attack, only to be incarcerated for defending her life. Her story inspired an international movement advocating for her freedom, and since her release she has worked to critique the prison-industrial complex and to advocate for reforms to the criminal justice system. Featuring CeCe McDonald and Laverne Cox, documentary Free CeCe confronts the culture of violence surrounding transwomen of color.
This screening of Free CeCe will be followed by a Q&A with Director Jacqueline (Jac) Gares and Documentary Subject CeCe McDonald, who will discuss the process of making the film with Moderator Lal Zimman of the Department of Linguistics.
The event is free but a reservation is recommended in order to guarantee a seat.
Media
Audiences
Additional Resources
More Links:
http://www.carseywolf.ucsb.edu/pollock/events/trans-media-free-cece