Script to Screen: LA LA LAND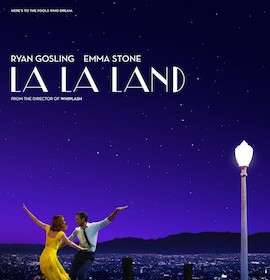 Tuesday, May 30, 2017
7:00 PM – 10:15 PM
Tweet
In La La Land (dir. Damien Chazelle, 2016) aspiring actress Mia (Emma Stone) and jazz musician Sebastian (Ryan Gosling) traverse a decidedly contemporary Los Angeles infused with the spirit of Hollywood's golden age musicals and rendered in the vivid primary colors of Jacques Demy's whimsical mid-sixties work (The Umbrellas of Cherbourg, Les Demoiselles de Rochefort), a feat of alchemy for which guests David Wasco and Sandy Reynolds-Wasco took home this year's Academy Award for Best Production Design.
UCSB Script to Screen will host Academy Award Winning Production Designers David Wasco and Sandy Reynolds-Wasco for a post-screening Q&A. The event will be moderated by Pollock Theater Director Matt Ryan.
Tickets will be released on Tuesday, May 9th.
The UCSB Script to Screen series examines the screenplay and its transition to the screen from the perspective of writers, directors, producers, editors, and actors.
Media

Audiences
Additional Resources
More Links:
http://www.carseywolf.ucsb.edu/pollock/events/script-screen-la-la-land
Pricing
Community : 7
UCSB Students : 5