GRADUATE SYMPOSIUM: "Radical Ephemeralities"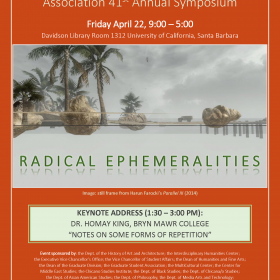 Friday, April 22, 2016
9:00 AM – 5:00 PM
Tweet
The 41st Annual Symposium of the Art History Graduate Student Association, "Radical Ephemeralities," will examine concepts related to loss and recuperation across varying time periods and disciplines, with particular emphasis on ephemerality as a site of contestation against dominant cultures and privileged material forms. The symposium aims to facilitate an interdisciplinary discussion on ways in which ephemeral media and phenomena may be analyzed within different historical, cultural and political contexts.
Dr. Homay King (Bryn Mawr College) will give the keynote address, "Notes on Some Forms of Repetition," from 1:30-3:00, followed by a response by Dr. Jenni Sorkin, History of Art and Architecture.
Cosponsored by the IHC, Executive Vice Chancellor's Office, Vice Chancellor of Student Affairs, Dean of Humanities & Fine Arts, Dean of the Graduate Division, the GSA, MultiCultural Center, Center for Middle East Studies, Chicano Studies Institute, and ten academic departments.