AS Program Board Presents… Khalid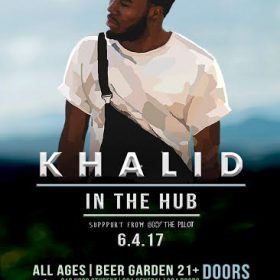 Sunday, June 4, 2017
7:30 PM – 11:15 PM
Tweet
General Admission
Buy Online Soon
Khalid in the Hub has been rescheduled for June 4th, 2017 with doors at 7:30 PM.  For ticketholders unable to attend this new date, tickets can be refunded at the AS Ticket Office Monday- Friday, 10am- 5pm.
Everything typically happens for the first time in high school. It's the first moment behind the wheel, the first taste of freedom, and the first experience of love. Though not far removed from those days, 19-year- old El Paso, TX singer and songwriter Khalid revisits this seminal time on his full-length debut album, American Teen [Right Hand Music Group/RCA Records]. It reflects the spirit of classics such as The Breakfast Club and 90210 through a kaleidoscope of glitch-y soul-driven cinematic 21st century pop and his transient upbringing in a military family.
On the eve of his own graduation, Khalid created a bona fide hit in the form of the album's breakout single "Location." It generated over 26.5 million Spotify streams and 4 million YouTube views, received acclaim from Nylon, Pigeons & Planes, Earmilk, DJ Booth, and more, and figured prominently in Snapchat stories from Kylie Jenner, P. Diddy, and Rita Ora. As "Location" became a 21st century anthem, he landed a major label deal with Right Hand Music Group/RCA Records.
Now, the album paints a modern picture of growing up in the age of Uber and Instagram. With its dreamy production and shimmering synths, the title track sums up the central theme.
"With this album, I want to show everyone it's okay to have emotions, it's okay to be happy, and it's okay to be sad," he concludes. "I feel like a lot of people are afraid to open up, and the trend is to be very cold. I'm throwing everything I've ever been through on the table. I'm giving everyone my take on high
school and life. I'm looking forward to how kickass 2017 is going to be. I'm very excited for the year, for music, building new experiences, making friends, and coming back to El Paso after everything happens. It's going to be amazing."
Restrictions
NO RE-ENTRY. No glow sticks, fireworks, lasers, skateboards, bottles, cans, knives, alcohol, animals, illegal substances, wallet chains, recording devices, backpacks, large bags, projectile items, stage diving, crowd surfing, or moshing. Any person engaged in violent conduct or endangering others will be removed from the venue.
Media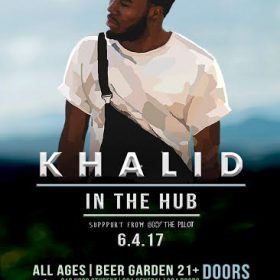 Video
Features
Subjects
Additional Resources
More Links:
Pricing
Student : $18
GA : $21
Doors : $24